KPMG Meijburg corporate website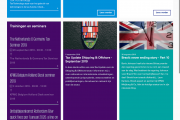 Nominee
Case description
Finalist developed a Drupal 8 website for the international tax consultancy firm KPMG Meijburg. We replaced their old CMS so that they could create content that is suitable for a modern website. The new website reflected their new corporate image and it enabled them to create content that is optimized for search engines, social sharing and multiple devices.

Case goals and results
The goals for this projects were:
• effortless content management;
• search engine optimized content;
• integration with social media;
• multilingual content;
• integration with firm's staff administration system;
• content suitable for multiple devices.

The website Finalist delivered met all the requirements and above all enabled KPMG Meijburg to produce lots of modern content in a very short time frame. What stood out was that the Drupal CMS we used enabled the editors to start editing content early in the development process and that they managed to write a large quantity of articles and pages before the new website went live. Custom taxonomies gave the customer the opportunity to automatically re-use content based on topic and group.

Challenges
The main challenges were:
• the numerous variants in which the content would have to be presented. Some content types have multiple view modes for which multiple styles exist. For instance multiple news article teasers that can be presented in various corporate style colors. Drupal's smart entity view modes in combination with component based CSS was being used to be able to manage the exponential complexity of the design requirements.
• the integration with firm's staff administration software AFAS. As KPMG Meijburg prefers that clients have direct contact with their expert staff, profiles of each staff member has to be available on the website. For this data to be available and frequently updated an smooth integration with AFAS is needed. Migrate, migrate plus and migrate tools allow a daily synchronisation of the expert staff profiles.
• live content had to be written while the website was still in development. Because KPMG Meijburg already had a working website it was necessary to launch the new site loaded with a complete and rich collection of content. We let the editors start working in a pre-production environment as soon as the content types in their simplest form were available. Drupal's core configuration management allowed the editors to start writing content while we kept developing the website.


Community contributions
During this project we contributed patches for the Real time SEO [https://www.drupal.org/project/yoast_seo] and Blizz vanisher [https://www.drupal.org/project/blizz_vanisher] contrib modules.


Why should this case win the splash awards?
This project should be considered for the Splash Award because it is a showcase of the flexibility of Drupal 8 core in combination with a small selection of contrib modules. The friction-less updating of user profiles is a testament to the ease of use of the migrate module and the editorial simplicity that produces rich varied content is astonishing.