Finnish National Agency for Education
Education
Government and Public Services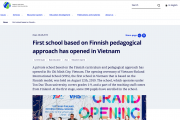 Case description
Finnish National Agency for Education core tasks are to develop education and training, early childhood education and lifelong learning and to promote internationalization in Finland. Oph.fi serves organizations and education professionals.

At the beginning of 2017, the Finnish National Agency for Education and CIMO (the Center for International Mobility and Cooperation) merged. At the same time, it was decided to merge the web services Cimo.fi, Oph.fi and Edu.fi, and Wunder had the pleasure to create the final product of this project.

The new Oph.fi was released in beta in January 2019. The beta site was mainly aimed at teachers and other educators, and the final, fully publicized site saw the light of day in July of the same year.

In particular, the new web service focuses on the accessibility and discoverability of materials for development finance projects, publications and learning materials and the ease of end-user work. The site includes a variety of features from event calendar to campaign pages and collections of educational materials. The seamless interaction between design and technology is reflected in the functionality and usability of the entire solution.

Wunder also made sure that the Finnish National Agency for Education was given a superb CMS's manual and a series of trainings to get the most out of the service.

Provided Services/Technologies:
Service Design
User Experience (UX)
UI Design
Drupal 8
React
Atomic Design utilizing Pattern Lab
Accessibility
Elastic Search
Test automation utilising Codeception
Analyses/reports from CircleCI
Case goals and results
The aim was to renew the entire online presence of Finnish National Agency for Education, not just to merge the three long-lived existing web services, to bring massive amounts of information under one user-friendly, accessible, and understandable service. The new service also provides hundreds of content providers the easiest tool to maintain content.

With the new web service, the Finnish National Agency for Education has been given the opportunity to add value to its customers and stakeholders better than before, and to enhance equality for users of the site through carefully planned accessibility. Therefore, Oph.fi offers concrete help and solutions for the work of learners, education professionals and organizations.

Challenges
The design of the new web service launched at the end of 2016 with concept planning that included workshops to identify customer groups and service entities. Organizational clients, learners and teachers, and other professionals were eventually identified as key target groups. The development project itself was put out to tender, which resulted in Wunder being selected as the partner.

At the beginning of the project, the goal was to combine Oph.fi and Cimo.fi under one service and to renew Edu.fi as a separate site. However, as the work progressed, plans changed and all three sites had to be combined into a single service. It also meant that the massive amount of content that would complicate navigation and the already planned content structure, such as anchor content pages – Wunder designers had to go back to the design table and come up with a new design for the content solution.
Community contributions
Contributed modules:
- Media entity dreambroker: https://www.drupal.org/project/media_entity_dreambroker
Contributed patches:
- Smart Trim:
https://www.drupal.org/node/3031786
- Simple XML sitemap:
https://www.drupal.org/project/simple_sitemap/issues/2996734
- Radioactivity:
https://www.drupal.org/project/radioactivity/issues/2944947
Core:
- https://www.drupal.org/project/drupal/issues/3014051
- https://www.drupal.org/project/drupal/issues/2492171
- https://www.drupal.org/project/drupal/issues/3002927

drupal.org usernames: mitrpaka, kirkkala
Why should this case win the splash awards?
As a result of more than 20 production workshops and prototype testing sessions, over 5000 hours of Wunder design & development work in tight collaboration with hundreds of content creators the changing needs, desires and technical changes were woven into a functional, clear, and accessible service that sets the tone for all educational online services in Finland.